Our integration with Flowhub's "Order Ahead" functionality allows Where's Weed consumers to place real-time orders on our platform and for real-time delivery and processing directly within your Flowhub Cashier application.
Prepare your inventory in Flowhub
Before integrating, ensure your product inventory is up-to-date with accurate titles, descriptions and imagery.
Next, confirm pricing is accurate for all listed products.
Note: Products marked as inactive within Flowhub will not be displayed on your business' profile page on Where's Weed.
Step 1: Contact Flowhub to get started
To request an API key for integration with an order-ahead partner, email api@flowhub.com.

If you already have this information, skip to step 3.

After verifying the needed requirements, Flowhub will create an API and send it to Where's Weed
In Flowhub Classic, navigate to Manage > Location Management > settings and select the Cart tab.
Check the "Enable Order Ahead" box. This will populate the Order Ahead Tab in your Cashier App.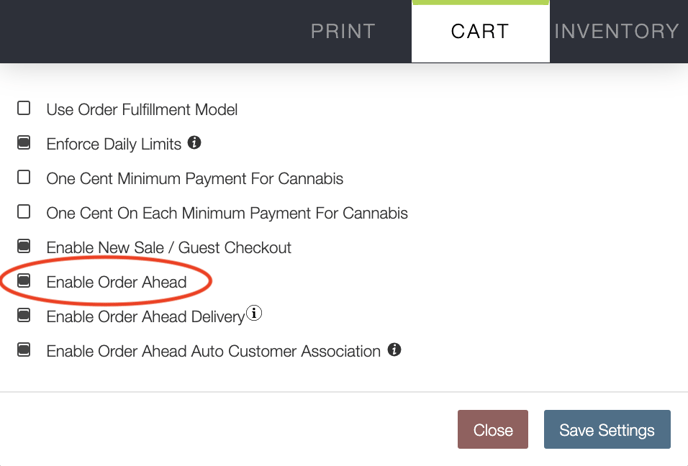 Step 2: Implementation of your API key
Our team will assign the API key to your dispensaries account.
Note: The API Key is assigned on a per-company basis.
Upon a successful API connection, your product inventory will start populating to your menu in real-time.
After a successful data sync, our team will reach out to discuss testing procedures.
Step 3: Test the integration
Upon the successful data sync, the Where's Weed team will submit a test order to confirm that the order was properly received and functioned as expected.
To confirm the test order you will sign into Flowhub Cashier and select the "Order Ahead" tab:

Here, you should see the test order in the "New Orders" column.

If you do not see the order come through the Where's Weed team will investigate as needed which may include working with our API team.
If you do see the order, that means the order came through successfully from Where's Weed to Flowhub.

Once the test order comes through into Flowhub, there is no further setup needed.
It is recommended to delete the test order to avoid reporting the sale. Choose the three-dot menu in the upper right-hand corner of the order to cancel it.
Step 4: Start taking orders!
Now that a successful order has been processed, Where's Weed consumers can start submitting orders through our platform.